Harriet Tubman – Black History Month 2021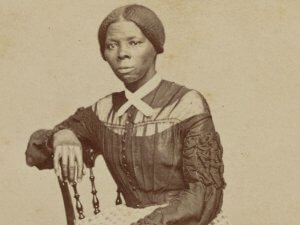 My daughter Clara is studying Black History at school, and wanted to contribute to our awareness by writing this piece on the amazing Harriet Tubman...
Harriet Tubman was a leading figure of the abolitionist movement in 19th century America, fighting for the freedom of those who were forced into slavery and trapped on plantations across the United States.
Growing up as a slave herself, Harriet had an incredibly traumatic childhood. She experienced brutality and violence at the hands of various overseers and plantation owners, with some injuries' effects lasting until Harriet's death.
In 1849, when Harriet was approaching thirty (approximately as Harriet's birthdate isn't confirmed), she escaped slavery. She did this using the Underground Railroad allowing her to escape from Maryland (a southern state) to Philadelphia (a northern state) as, although there was still inequality, there were more opportunities for black people in the northern states.
After escaping slavery herself, over the next decade Harriet decided she wanted to help over 300 others do the same, including family members, despite the change in the law in 1850, no longer making northern states safe for black people escaping slavery. Still, Harriet continued to help people escape slavery, now having to change her route on the Underground Railroad from Maryland to Canada (where slavery was forbidden).
President Biden's administration plan to add Harriet Tubman to the front of the $20 bill, replacing President Andrew Jackson, who owned enslaved people and forcibly relocated Native Americans. There has never been a Black person on U.S. currency, nor has there been a woman on a bill in the modern era, despite repeated attempts to diversify the currency.
"I had crossed the line of which I had so long been dreaming. I was free; but there was no one to welcome me to the land of freedom, I was a stranger in a strange land." - Harriet Tubman
(Image credit: history.com)