Anti-Slavery Day – 18th of October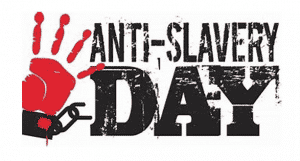 Today, the 18th of October, marks Anti-Slavery Day. It provides an opportunity to raise awareness of modern slavery and human trafficking and encourages us all to do what we can individually and collectively. As a business, it is our responsibility to act ethically and with integrity and transparency in all business dealings and ensure modern slavery or human trafficking is not taking place within our business or supply chain.
Modern slavery is thought to be one of the most lucrative forms of organised crime, with the International Labour Organisation estimating its global annual worth at £150 billion. More than 200 years after slavery was abolished in the UK, there are still an estimated 136,000 men, women and children trapped in modern slavery across the UK.
If you're up for a read, I've provided some shocking facts and figures of this global crime that is still happening today. I've also shared a little piece below of an incredible event I was fortunate enough to be a part of to help raise awareness and bring about change, On Thursday, 26th March 2015 the Modern Slavery Bill was passed in the House of Commons, so it really was a momentous time for our little cycle team!
The scale of modern slavery – facts and figures:
An estimated 40.3 million people are in modern slavery, including 24.9 million in forced labour and 15.4 million in forced marriage.
It means there are 5.4 victims of modern slavery for every 1,000 people in the world.
1 in 4 victims of modern slavery are children.
Out of the 24.9 million people trapped in forced labour, 16 million people are exploited in the private sector such as domestic work, construction or agriculture; 4.8 million persons in forced sexual exploitation, and 4 million persons in forced labour imposed by state authorities.
Women and girls are disproportionately affected by forced labour, accounting for 99% of victims in the commercial sex industry, and 58% in other sectors
Cycle For Freedom
October 2014, I was fortunate enough to be part of an incredible cycle team who cycled from Liverpool to London, 5 cities (known for their Slave ports), in 5 days, 500 miles and covering 5 events all in aid of raising awareness of Modern-Day Slavery and Human Trafficking.
Day One saw the team take part in educational talks at the International Slavery Museum,  attended by pupils from local schools. Later that evening, Sky Sports covered our Cycle For Freedom launch party at the Liverpool Albert Docks, with footballers Stephen Warnock and Fabio Borini attending and presenters Vinny O'Connor and Natalie Sawyer. Day two we were on our bikes heading towards Birmingham, where we visited schools and met with young people to share about how slavery is happening NOW in our cities and in our communities.
The next leg was Birmingham to Bristol, one of the largest historical slave ports in the form of sex trafficking, forced labour and exploitation. We spent the day raising awareness, we met with Unseen's CEO, Andrew Wallace and Pamela Cookey, Captain on England's netball team came to show her support! It had been 3 days on the bike, we were exhausted, we had pain in places we never knew existed, experienced strong winds, torrential downpours, and cold temps but we were in for our biggest challenge yet. To cycle from Bristol to Oxford on a normal day is a challenge, but to do it through the night was an understatement, especially through the country lanes, but we had a great support crew who lite up the way and we eventually made it to Oxford in the early hours of the morning. with only 3 hrs sleep we joined forces with OXCAT (Oxford Community Against Trafficking) where we did a protest through the town centre of Oxford (below) to highlight Slavery, it was an overwhelmingly emotional, but powerful event to be a part of.
Day five, the final day of the CFF tour. We left the Houses of Parliament on Anti-Slavery Day to start the finale,  with over 300 riders joining us cycling 130km along the Olympic route. We were also joined by Kirsty Gallacher and Natalie Pinkman (then Sky Sports News). It was an unbelievable and rewarding experience to be a part of and so very proud of what we achieved as a team!
If you would like more info on Modern Slavery, please see links below (to name a few):
Modern slavery - GOV.UK (www.gov.uk)
https://www.antislaveryday.com
https://www.salvationarmy.org.uk